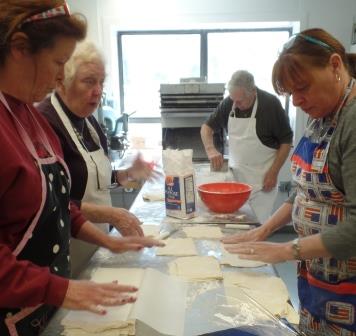 This morning, I made meat pies. Laurie and I arrived early, just as the sun started its ascent into the blue smoky mountain sky. We knew it would be a long day but we are excited to be venturing out into making some items for the first time without the watchful eye of our mentors, Alex and Joan Robb.
We mixed and kneaded – first the meat and spices to make the pie filling and then the flour and other ingredients for the pastry shells. My soul warmed as the ingredients took shape to form the pies – and so did my brow! Laurie and I laughed at the process and at ourselves and at our own antics as we worked. I like to think our laughter adds a bit of cheer to every bite!
Pretty soon, Alex and Joan arrived. Their presence is grounding. The best recipes and processes are passed from generation to generation – Joan and Alex are passing theirs to us!
Making Meat Pies in the Smoky Mountains