Michelle Briggs – Owner Absolutely Yummy Catering, Waynesville NC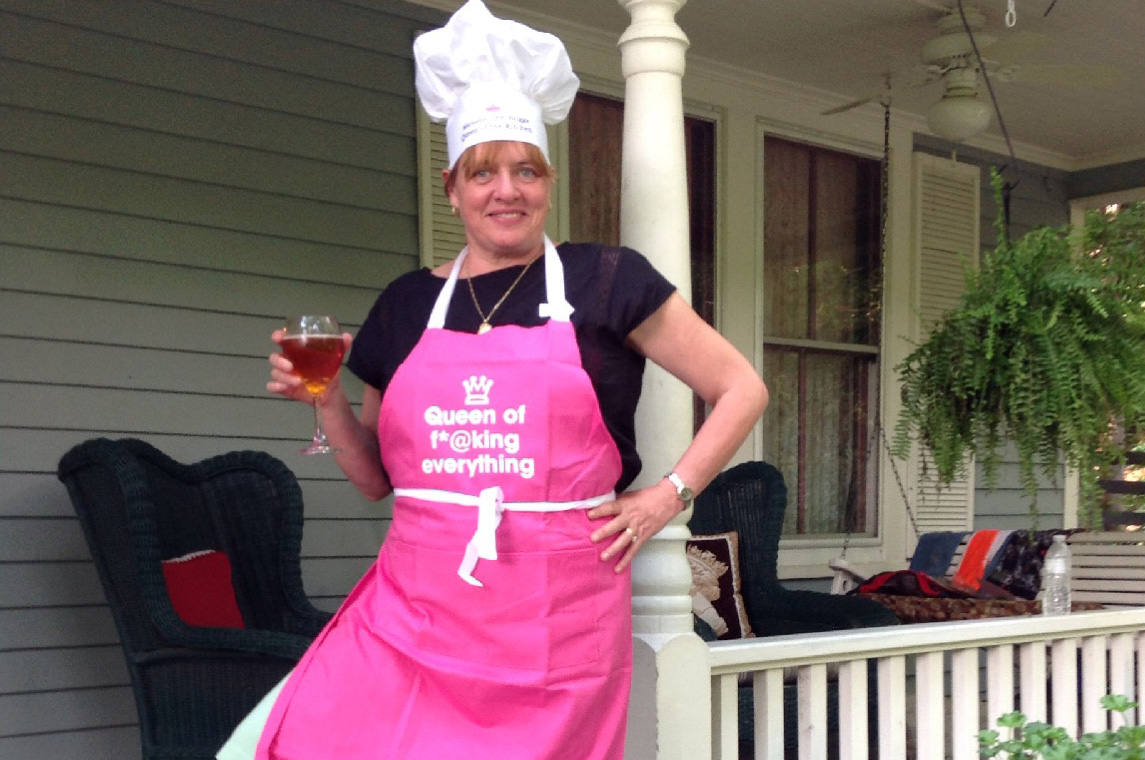 Despite being an award-winning chef today, Michelle Briggs almost didn't make it.
"When I was twelve I desperately wanted to be hairdresser. But then I got into cooking with my friends in my mum's kitchen. We would concoct exotic dishes with – interesting – ingredients. Some turned out not too good," she confesses, "but over time I began coming up with absolutely yummy dishes. Everybody liked them, and I was hooked. I changed my mind then and there and decided I wanted to become a Chef."
In the early 1980's Michelle attended Thanet College in Broadstairs, England where she earned a culinary degree.  Her first job was at the Regent Palace Hotel in London. Boasting a whopping 1,000 rooms it was the largest hotel in England at that time. The number of meals she had to oversee every day taught her speed. "We would be making meals from scratch for 500 people at a time! I learned so much from the angry, scary chefs I worked with there. It makes me quake to think of them even now," she laughs.
In 1986 Michelle came to the US to work for Camp America. She arrived as a baker in Hendersonville, NC and quickly found out that she had HUGE numbers of people to cater for. Her training in London stood her in good stead, but she made the occasional blunder in the early days. "One time we were catering a large event for a group of people dedicated to parve eating," she says. "At the time I had no idea that parve is the name for a diet that does not contain either dairy with meat products. Imagine their faces when I proudly presented my special English dairy trifle!"
Fortunately, she was forgiven due to her outstanding culinary prowess and returned the next year. This time she stayed and has been in the United States ever since.  Michelle has had the opportunity to work with many top chefs who taught her perfectionism and pleasing customers. Over the past decade Michelle has won numerous awards totaling many thousands of dollars in prize money for her food artistry.
"I'm very proud of the cooking awards I've won, considering how many fantastic chefs there are in the United States," says Michelle, modestly.
Michelle is also very active in her community of Haywood County, North Carolina.
As the Co-Founder and Vice-President of Women of Waynesville (WOW) inWaynesville, NC , Michelle Briggs has helped raise tens of thousands of dollars in donations that go to help benefit women and children in the community.
Michelle Briggs' Cooking Awards
1st Place Winner of Select Registry Breakfast Cook-off – $10,000 Grand Prize 2006
2nd Place Winner of NC Best Dish Competition – Award Presented by Bobby Flay 2007
2nd Place Winner of NC Best Dish Competition – Award Presented by Bobby Flay 2008
Trip Advisor's Award of Excellence 2011-2015
1st Place Winner of Peoples Choice Award of Best Bed & Breakfast in Haywood County 2012
2nd Place Winner of Taste of Chocolate Competition 2012
Recipes Published in NC Bed and Breakfast Association Cookbook 2012
1st Place Winner of Peoples Choice Award of Best Bed & Breakfast in Haywood County 2013
1st Place Winner of Taste of Chocolate Competition 2013
Recipes Published in NC Bed & Breakfast Association Cookbook 2013
To discuss catering for your upcoming event, party or wedding, please contact Michelle at (828) 246-9815 or email her.