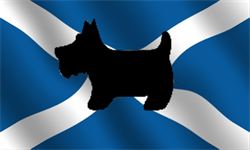 There's nothing like the taste of good, authentic Scottish food.  If you've ever bitten into a Scotch egg or a meat pie, you'll know just what we mean.
Unfortunately, there are VERY few suppliers of good Scottish food here in the Eastern United States. In fact, we could count them on one hand – literally!
However, we are very proud to announce that we are now able to prepare and freeze fine Scottish food for pickup in Waynesville, North Carolina. Just let us know the quantity you need and we'll have it all ready for you within just a few days. For Scottish Shortbread, please contact www.Saintandrewssquare.biz or 828-550-9221 Alex and Joan Robb.
Finely ground, moist beef in a short crust pastry flavored with pepper, salt and
Ground beef and onions in puff pastry (looks like an apple
turnover).
Homemade beef sausage flavored with nutmeg and coriander and wrapped in puff pastry.
Ground Highland beef, a tiny amount of Highland beef liver, toasted oatmeal, onion and spices wrapped in puff pastry.
Michelle Briggs, CEO and Head Chef
Absolutely Yummy Catering